Trent Hunton
Assistant Professor
Department of Command, Leadership, and Management, SSL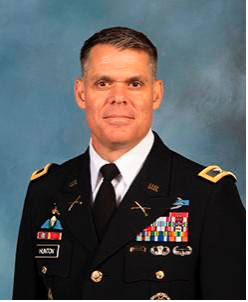 BIO
Colonel Trent Hunton is an Assistant Professor in the Department of Command, Leadership, and Management, where he teaches courses in strategic leadership as well as management of the Department of Defense enterprise. Trent is also an Associate Director of the Eisenhower Series College Program.
Trent was commissioned in 1993 as a Distinguished Military Graduate from the University of Colorado at Boulder with a Bachelor of Science in Business Administration. He is a 2007 graduate of the School of Advanced Military Studies, where he earned a Master's in Military Arts and Sciences. He is also a 2017 graduate of the U.S. Army War College, where he earned a Masters in Strategic Studies.
During his Army career, Trent has served in a variety of command and leadership positions, from tactical infantry formations to the strategic and enterprise level in the Pentagon, Iraq and Afghanistan. At the strategic level, Trent served on the Joint Staff from 2014-2016 in the J35, Deputy Director of Regional Operations. In this position, he regularly advised the Chairman and his principal staff-members on best military advice for both crises and ongoing U.S. operations throughout the Middle East and South Asia.