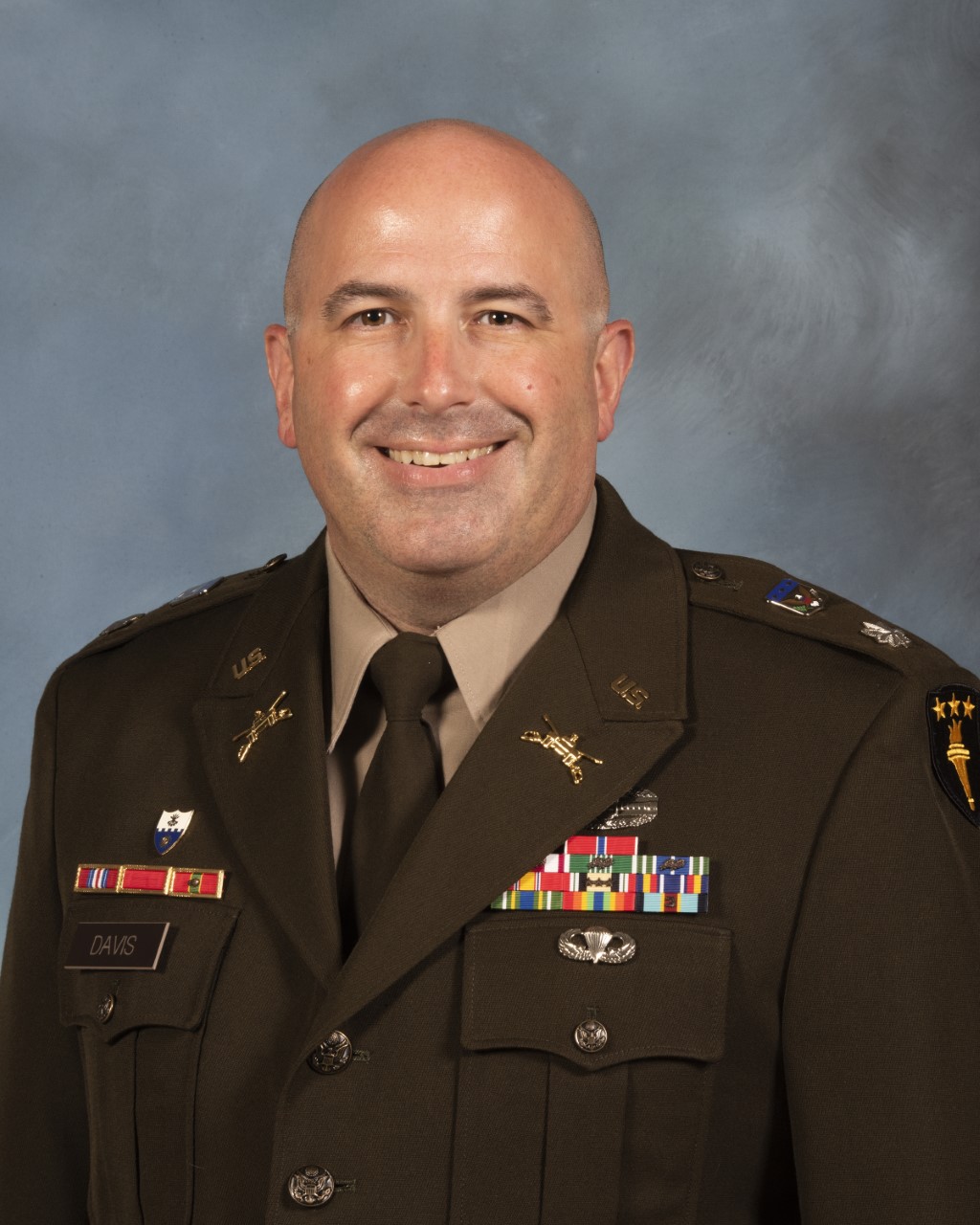 BIO
Lieutenant Colonel Nathaniel B. Davis was commissioned as an officer in the United States Army upon graduation from the University of Michigan in 2002, where he majored in Political Science, History, and Studies in Religion.
Stationed at Camp Casey, Republic of Korea, he served as a tank platoon leader and support platoon leader in the 1st Battalion, 72nd Armor Regiment. He served as the Multi-National Division-Baghdad, Information Operations, Chief of Operations in Baghdad during his first tour to Iraq. During his second tour he commanded Delta Company, 1st Battalion, 22nd Infantry Regiment, trained the unit to deploy, and led the unit through the Iraqi Surge campaign in Baghdad. During the deployment the unit earned the Valorous Unit Award and the Combat Action Streamer, while bringing everyone home safely. In the final months of the deployment, he served as the Assistant Operations Officer for the 7th Squadron, 10th United States Cavalry Regiment.
He attended Harvard University, earning a Master of Public Administration in 2011. Subsequently, serving as an Assistant Professor and the Deputy Director of Defense and Strategic Studies at the United States Military Academy at West Point, he was awarded the Apgar Award for Excellence in Teaching, West Point's highest teaching honor, in 2013. He attended the U.S. Army Command & General Staff College, earning a Master of Military Art & Science in Joint Planning Studies in 2014. He was next assigned to Fort Bliss, TX where he served as the Operations Officer and Executive Officer of the 1st Battalion, 6th Infantry Regiment.
He earned a Ph.D. in War Studies from King's College London in 2017, with a thesis titled: "Combating the Problem from Hell: Morality and Strategy in Humanitarian Military Intervention." As a lieutenant colonel, he served as the Director of Defense and Strategic Studies at the United States Military Academy at West Point, and as Commander of the 1st Battalion, 81st Armor Regiment at Fort Benning, GA, before becoming a permanent Professor, United States Army War College in 2022.
Lieutenant Colonel Davis is a Member of the International Institute for Strategic Studies and was a Term Member of the Council on Foreign Relations from 2017-2022. His writings have been published by the Modern War Institute, Responsible Statecraft, and The New York Times, among others. His awards include the Bronze Star Medal, Iraqi Campaign Medal with 3 Campaign Stars, and the Combat Action Badge, among others.
Lieutenant Colonel Davis is married to Kathie Davis and has a daughter, Lily, and son George.
contact
Nathaniel.davis.mil@armywarcollege.edu

717-245-3282
651 Wright Ave, Room 3056
Carlisle Barracks, PA 17013
---
Recent Publications
COMMENTARY
"If War Can Have Ethics, Wall Street Can Too"
New York Times, October 3, 2016
MILITARY AND SOCIETY, FUTURE OF THE MILITARY PROFESSION
COMMENTARY
"Reflections on North Korea and Deterrence in the Twenty-First Century"
Modern War Institute, August 31, 2017
STRATEGY IN THE 21ST CENTURY, ALLIES AND ADVERSARIES
COMMENTARY
"A Tale of Two Dragons: Chinese Power Projection on the Silver Screen,"
Modern War Institute, August 9, 2018
MILITARY AND SOCIETY, ALLIES AND ADVERSARIES
COMMENTARY
"The Rockets of January: Have We Really Escaped 'A Trap From Which There Was No Exit?"
Responsible Statecraft, January 14, 2020
STRATEGY IN THE 21ST CENTURY, ALLIES AND ADVERSARIES